Italwinch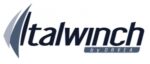 Italwinch was established in 2008 and is a collaboration between Orvea and MZ Electronics. Created to meet market demand to manufacture products for bigger boats, Italwinch are now considered as Italian specialists in anchor windlasses, capstans, and controls.
Since 1993, when MZ Electronic was founded, they have been driven to research and develop new high-tech products for recreational and commercial boating. Combine this with Orvea's experience as a supplier in the field of winches, Italwinch introduced a new range of winches with innovative and highly performing features into the market.
Now, the range Italwinch by ORVEA has more than 30 categories of mechanical products for docking, a complete range of electronic accessories and the possibility of creating custom solutions on request, both in electronic and mechanical sector. These products meet and exceed the requests of the most important certification agencies in the world.
Italian craftmanship and collective expertise give Italwinch an edge and IMP are proud to offer their catalogue to customers.